Taking Modular Walls to
Maximum Elevations
SwiftWall® Max Modular Wall Panels
Our elite SwiftWall Max modular wall product line offers it all, with a sleek,
designed appearance that takes modular walls to the next level. With an STC 40 sound
and Class A flame spread rating, it's ideal for retail spaces, office spaces, clean rooms, break rooms, control rooms and conference rooms.

Temp Walls manufactured from recyclable powder-coated metal with a commercial-grade finish, impact resistant, wear-resistant, mold and mildew resistant.
Easily dismantle and reconfigure your wall panels multiple times depending on project needs.
Interlocking modular panels to add structural integrity, panels can be stacked up to 30 feet high.
Installs 3X faster than studs and drywall
Non-porous, non-combustible, weather resistant marine aluminum panels
White powder coated smooth, glossy finish, mold and mildew resistant, easy to clean
Extremely strong, sturdy and lightweight
Highly engineered for load-bearing applications, including wind and seismic applications
Excellent for high-traffic areas; able to withstand everyday wear and tear
Standard panel heights: 8 and 10 ft by 2 ft wide
Optional removable interior panels
Reconfigurable
Reusable, sustainable and 100% recyclable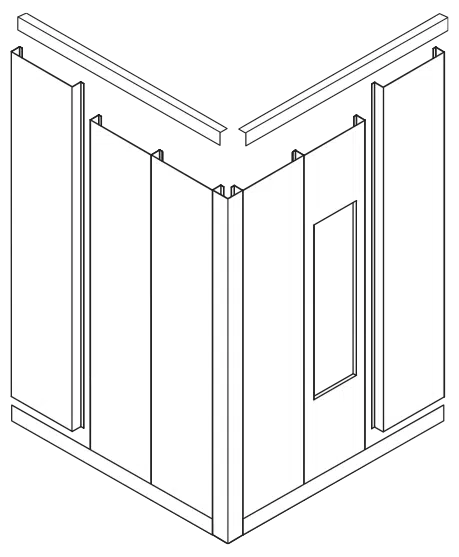 The SwiftWall Max modular wall system consists of interlocking panels, channels and rails. Various top and floor mounting options are available, as well as optional components like doors and windows. Endless configuration options can be created for free-standing structures, wall, partitions and enclosures.
Components
Bottom Track
Wall Panel (2 ft wide x 8 or 10 ft high)
Pre-Assembled Door
Clear Window Panel
Adjustable Top Trim
Frequently Asked Questions