GOVERNMENT AND DISASTER RELIEF
SwiftWall® manufactures high-quality temporary wall systems to assist governments and nonprofit agencies in delivering essential functions and emergency relief.
Government Buildings and Agencies
Many of our government institutions are architectural works of art worthy of the history that gets written there. Restoration activities often occur to preserve these buildings' heritage for future generations. In most cases, shutting down access to the structures while construction occurs isn't feasible — there's crucial work to do. Our commercial dividers for government use provide a viable solution. They help you prevent damage to existing features while promoting safety during continued operations.
Other government buildings need to have flexible office layouts based on agency needs.  The dynamic environment demands adaptable space use — and solutions that meet General Services Administration (GSA) guidelines. Our GSA-approved space dividers help your agency quickly transform and create space where and when you need it.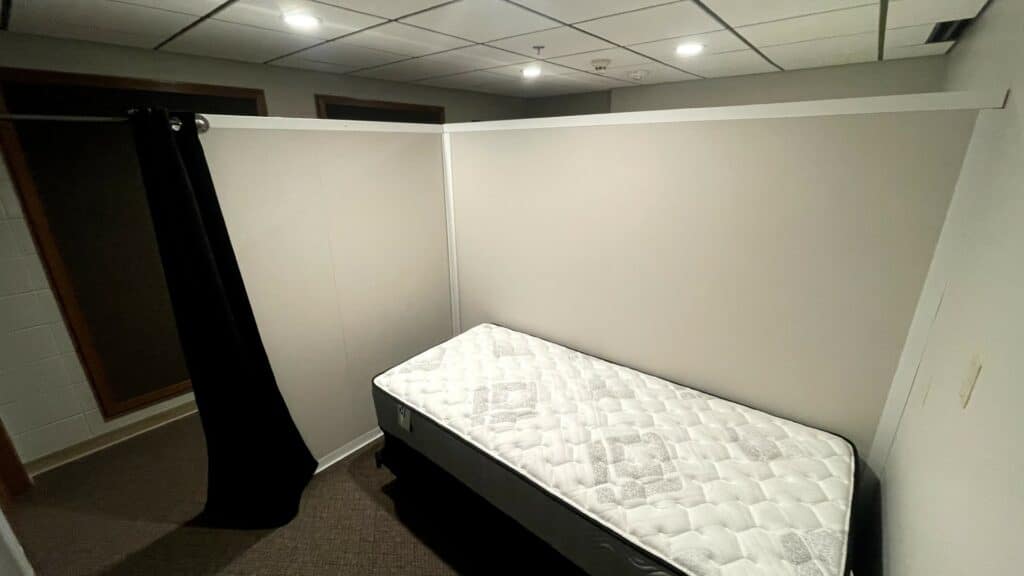 Disaster Response and Humanitarian Relief
During a disaster or humanitarian crisis, people seek the comfort that government and nonprofit agencies offer. SwiftWall helps you provide solace while fostering an essential sense of community. You can quickly and easily deploy our privacy dividers in relief shelters to:
Create a sense of personal space and privacy within larger areas for individuals or families in need.
Improve the living conditions of those impacted by an emergency or crisis.
Empower displaced people by subdividing massive spaces in times of disaster relief
Reconfigure the shelter dividers as needed to accommodate more quarters or gathering spaces.
See Our Solutions in Government Buildings and Agencies Settings
Explore recent campus projects to see how SwiftWall can help you transform or create spaces.
View Our Government and Disaster Relief Help
Explore how we've helped government and nonprofit agencies carry out their missions effectively.
Painted panels
100+ linear ft
On-duty firefighters needed temporary lodging during renovations.
Saint Croix, U.S. Virgin Islands

SwiftWall panels created a meeting room where staff can plan and respond to disasters.
Multiphase, multiyear project
200+ linear ft
The unique needs of a multiphase restoration construction project made SwiftWall panels perfect for a project at Michigan's State Capitol. Panels were used to divide hallways, tuck under and around historic architecture, create a clean and safe environment for elected officials and maintain the majestic environment for school children on tour.
SwiftWall Lite® is the perfect option to quickly divide large spaces such as tents and warehouses into 100s of smaller spaces, creating private, temporary housing for thousands in need during emergency and humanitarian response situations.
After receiving a referral from another division, SwiftWall Pro® reusable panels were used to create a private office during building renovations.
STAY READY WITH SWIFTWALL
Agility is crucial when responding to emergencies or conducting government operations. SwiftWall has been a trusted partner for help staying adaptable since 2014. Connect with a specialist online or find an authorized dealer for custom quotes or purchasing advice.