AIRPORT CONSTRUCTION WALLS
Airports are among the busiest facilities anywhere, so they demand clear paths, unmistakable signage and a seamless structure to keep people moving. With all that foot traffic, accomplishing construction or renovation jobs is inherently difficult and requires careful planning. Airport construction barriers from SwiftWall® make these projects possible by keeping dust and debris contained, closing off areas to unauthorized personnel and hiding unsightly construction zones behind sleek, clean walls.
What You Can Accomplish With Temporary Airport Barricades
Redesigning or updating a gate, terminal or concourse is a challenging job. Depending on the nature of the project, there'll likely be a great deal of dust, noise and power tools involved. Those things can pose a risk for bystanders, alongside looking unattractive and making an already bustling environment feel more chaotic. Airport construction wall barricades let you keep them securely behind a seamless wall until you're ready to reveal the finished product.
SwiftWall® airport wall panels feature a self-contained structure that makes them attractive yet durable, and pieces up to 10 feet in height by 4 feet in width are light enough to be easily handled by a single individual. These panels fit securely into an aluminum track and allow simple reconfiguring if you need to adjust your project scope.
These durable renovation barriers for airfields are designed for a seamless installation to keep dust fully contained on the other side, ensuring even sensitive flyers can breathe easy. They also feature a sleek, attractive finish that readily accepts vinyl graphics and other customization elements. Whether you want your construction wall to advertise a new installation coming soon or provide additional instructions to help visitors navigate the airport, you'll have a surface that lets you do it while also making for a safer, cleaner facility.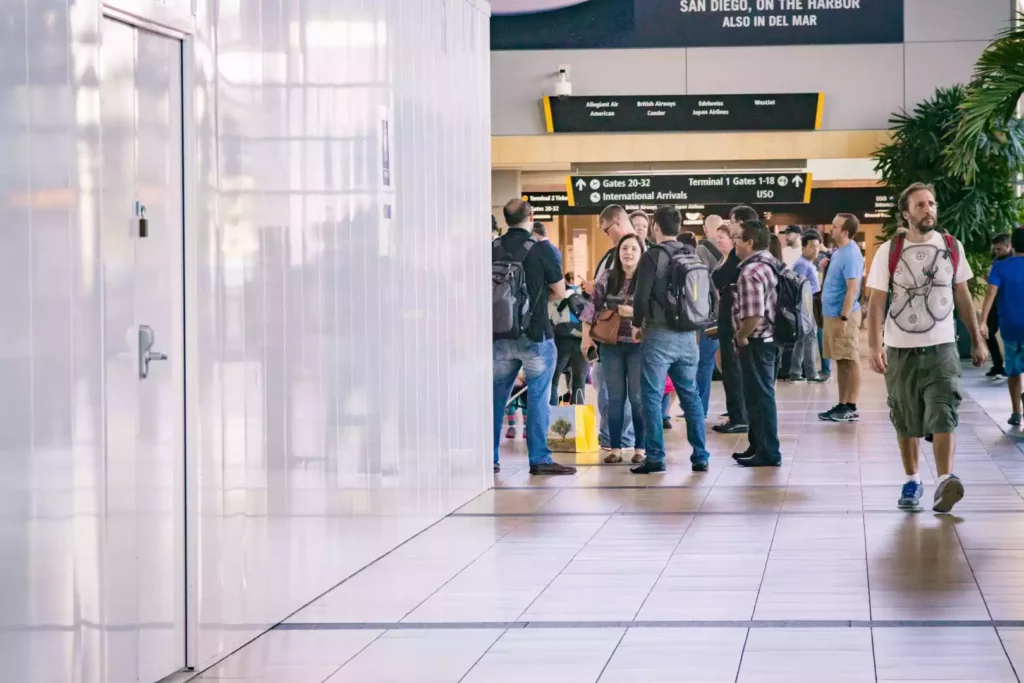 FIRST-CLASS SOLUTION, AT FREQUENT FLYER RATES
SwiftWall walls and barriers give your project a clean finish and a protective sound barrier, allowing airport operations to continue undisturbed on either side of the wall.
Construction Barriers for Airfield Applications
Installing barrier materials like plywood or drywall is often a noisy, time-consuming process, and they generate a lot of waste when it's time for the wall to come down. SwiftWall® construction wall barricades can be reused 15 times or more and almost entirely recyclable at their end of life, making for a much more sustainable solution. They're also five times faster to install than drywall and far more durable. 
SwiftWall® airport renovation barriers have been put to work at some of the largest airfields in the United States. One of these applications included an expansive, multiyear project to improve passenger flow throughout Denver International Airport. At Hartsfield-Jackson Atlanta International Airport, SwiftWall® Pro construction wall barricades protected pedestrians during a large-scale expansion project affecting multiple concourses. 
See how other international airports used our renovation wall barriers to protect passengers and keep their facilities looking their best while performing upgrades.
Explore Our Solutions in Action
Look at some real-life applications to envision how SwiftWall can work for your next airport renovation project.
PROUD PARTNERS OF AIRPORT PROJECTS AT:
ASK YOUR AIRPORT WALL CONTRACTOR ABOUT SWIFTWALL® PRODUCTS
Temporary airport barricades from SwiftWall® let you skip the messy installation and material waste of drywall. Our sustainable solutions are attractive, convenient and environmentally responsible. 
We have four different product lines available in multiple heights and finishes to fit specific needs. We'll help you make your renovation simple, fast, clean and complete, just like our modular panel systems. Connect with our team today to discuss how our airport construction wall barricades can serve your applications.